On Hilton Head Island, you are not only surrounded by water, but also by fantastic breweries! We have chosen five of our favorites to help you plan out your stay.
Hilton Head Brewing Company
Located on the north end of Hilton Head Island, the Hilton Head Brewing Company is South Carolina's first brew pub since prohibition. Their tasting room has 16 brews on tap and both indoor and outdoor dining options. There is an easygoing vibe at the brewing company and lively surroundings.
Side Hustle Beer Company
Located on the South end of Hilton Head Island, Side Hustle Beer Company is the smallest craft brewery in South Carolina! Side Hustle brews exceptional-tasting beer, available in 16 oz cans to-go and draft pours on site. Occasionally, food carts are on-site here, but feel free to bring your snacks because their outdoor seating and patio tables have an island aesthetic from your vacation dreams!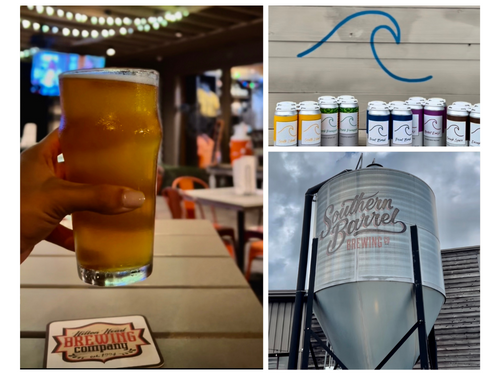 Southern Barrel Brewing Co.
Just off the island in Bluffton, Southern Barrel Brewing Co. combines the beauty of the old with a taste of the new. They have an awesome bar, a beautiful beer garden, and a delicious tavern restaurant featuring locally sourced ingredients and beer fresh from their brewery. With large areas for indoor and outdoor seating, this place is great for all moods, whether you are looking for a family dinner or to relax with friends in the beer garden. There is often live music and game nights of sorts here as well.
Lot 9 Brewing Company
Lot 9 is Bluffton, South Carolina's Nano-brewery and their story is all about heart. Founded by two friends after Hurricane Matthew hit the Lowcountry, this cozy, modern brewery makes great beer the right way! Lot 9 has an eclectic array of unique food trucks lined up to always keep you full and happy. They also just so happen to be the first brewery in the Lowcountry to brew a Slow Pour Pilsner. Make sure to Czech them out during your next stay!
Lincoln & South Brewing Company
Lincoln & South Brewing Company is all about Sunny Days and Cloudy Beers! Located on the North end of Hilton Head Island, the brewing company believes 'There is good living where there is a good beer. Add food to the equation and good living becomes a great living,' and life sure is excellent here! They have a fabulous lineup of live music and events. Cheers!
FOLLOW SPINNAKER RESORTS ON FACEBOOK, INSTAGRAM AND YOUTUBE FOR MORE INFORMATION ON ACTIVITIES!