Just five bridges from Hilton Head Island you can find yourself in beautiful Beaufort, South Carolina. This lovely town makes for a great day trip at just under 35 miles off of HHI. You will pass through Bluffton and Port Royal on your way, which makes for an alluring route along the sound to Beaufort, South Carolina.
Beaufort, South Carolina is a place where you can shop 'til you drop, dine to your preference, play golf, fish, throw axes –you name it! We have selected five of our favorite activities to do in Beaufort to help you plan your next trip!
Ribault Social Club/Anchorage 1770
The Ribaut Social Club is a part of Anchorage 1770, a historic inn with a rustic design. If you are looking for a gorgeous setting both inside and outside of your dining experience; this is the place. Chef Byron is one the Lowcountry's best and with a new menu every night, The Ribaut Social Club is sure to exceed your expectations. With indoor and outdoor seating, you can view the waterfront as you dine or find yourself drawn into the aesthetic that Anchorage 1770 has. They are a dog-friendly establishment, and the service is out of this world.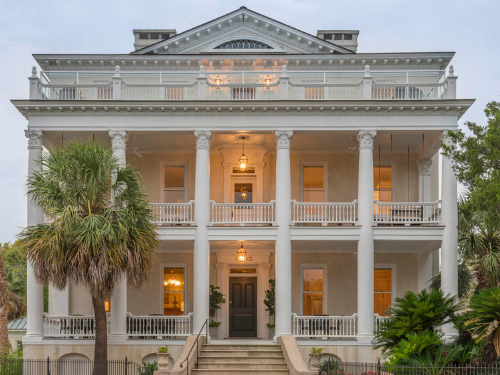 Scout Southern Market & Sweet Tea Bar
Shopping on Bay Street has never been sweeter. When you step into Scout Southern Market, the essence of southern charm is in the air! Whether you are looking for fine decorations, furniture, clothing, memorabilia, or design assistance; this place has you covered for both interior and exterior design. Local Artisans hand pick the items you see and will help you satisfy your Lowcountry dreams. As you work your way through the store you will be attracted to the colorful and exciting Sweet Tea Bar in the back. The Sweet Tea Bar is a Beaufort original and is the sweetest taste in town. Come make yourself at home and enjoy this Bay Street gem!
Port Royal Farmers Market
Every Saturday. Rain or Shine. This is the best way to start your Saturday morning. Local farmers and artisans set up shop in Heritage Park and you can do all your grocery shopping or pick up some extra goodies for your stay. Between the She Crab Soup, Paella, Pretzels, Oysters, Smoothies, and so many other FRESH, local vendors it's impossible to pick a favorite! Enjoy an outdoor park atmosphere with your Lowcountry neighbors.
Moss & Hatchet Lowcountry Axe Throwing
Axe throwing has been a growing sport for years and now we can throw axes locally thanks to Moss & Hatchet! With an enticing, Viking aesthetic, Moss & Hatchet is a great family outing and can also be a great date night! For just $20 an hour (per person) you will get a lane, some axes, and an axe throwing coach to help you get started. They also have a bar where they serve Mead. That's right, MEAD! If you don't know what Mead is – maybe you should plan your Beaufort trip to find out Local Mead made in Bluffton, SC that fits perfectly into the vibe of throwing axes!
Henry C. Chambers Waterfront Park
If you only go to one place in Beaufort, let it be here. You will be surrounded by gorgeous views of the Woods Memorial Bridge, there is a playground for the youngsters, and bench swings up and down the park to blissfully enjoy the scenic view. On the border of the park there are a number of restaurants where you can eat and drink. With their outdoor seating you do not even have to leave the park. Or you could bring a picnic blanket and sit in the lovely grass field central to the park.
Historic, beautiful Beaufort, South Carolina is a place that everyone can enjoy. We only discussed five places to visit while you are here, but there are 50 more that are also fabulous. Take a history tour, find a quiet spot or cheer loudly in a sports bar; you will find your crowd in Beaufort. We hope you have a great time on your trip! Contact us for any assistance at all that you might need planning your trip.
FOLLOW SPINNAKER RESORTS ON FACEBOOK , INSTAGRAM AND YOUTUBE FOR MORE INFORMATION ON ACTIVITIES!