Entertainment and musical adventures are a plenty in Branson, so you might sit back and take into consideration what else this little town has to offer. When you have that empty day on your vacation, fill it with an amazing memory of the great outdoors, which has plenty of availability in her natural theater. A person could write a novel about each of these outdoor Ozark ideas, and these quick thoughts might help you to create your own book of outdoor vacation adventures.
The Cave State Adventure
Get outside and go inside. Missouri has long been known as the "cave state" and has over 6,300 recorded caves to prove it. A hole in the ground beats a hole in the head, but there are those that have something loose in their head to want to explore some of them. If you just want to take a stroll without the worry, there are several near Branson just right for tourists. Talking Rocks Cavern (see above), Civil War Cave, and Marvel Cave are the closest to town. Marvel Cave is part of Silver Dollar City and a huge beauty. Talking Rocks is only about 20 minutes away. The Civil War Cave isn't large but has great history just up highway 65 about 30 minutes. Just down the road in Arkansas and about an hour from Branson are duel caves Crystal Dome and Mystic Caverns, and then near Eureka Springs is Cosmic Cavern. For those that don't want much walking, the nation's only tram-drive-through cave is Fantastic Caverns north of Springfield and just one hour and 20 minutes from Branson.
So much of Missouri is made up of limestone which is easily eroded away by our plentiful ground water, creating these beautiful caves. Shelf-rock formations help create thousands of cutaways from rain soaking and running and ground water bubbling up. It's easy to venture out in the woods to find little caves that aren't documented, but they won't be too large and there is usually a critter or two within that will leave a mark or a stench to give you a trip to the ER or a bath in tomato juice.
 Water Adventures
Water formed our caves and also some amazing rivers for beautiful canoeing. The White River that runs through Branson was tamed with dams long ago, so an hour drive north or south will get you to a nice paddle and float. Don't look for white water rafting; just nice floating. If it's high enough for white water rapids then we are at flood stage and it's not worth the risk even for the most experienced. North of Branson there are multiple canoe suppliers around the James River, which is a pretty wide river and good for a nice, leisurely sunburn and eventual hangover. South to the Buffalo National River in Arkansas has just as many outfitters, and some amazing bluffs and scenery, and is a thinner river with winding curves. Both rivers have good swimming and camping options. For a bit more commercial convenience, there are kayaks near downtown Branson on Lake Taneycomo, but don't go swimming; it's 45 degrees for that body of water.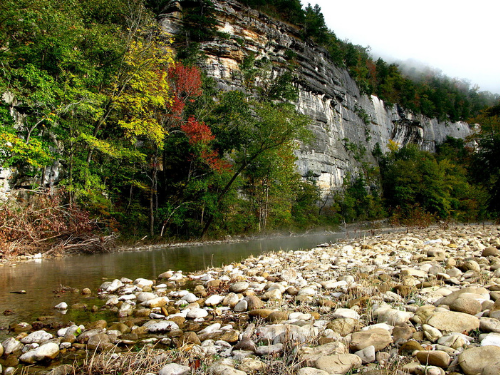 Southern Missouri Water Adventure
If you're talking about southern Missouri, there will be yet another water adventure. Branson is known as the tri-lakes area and Table Rock Lake is the most popular with clear water and lots of boating room. Rent a boat and do some cruising or skiing. It might seem like a lot of money to rent, but it's still WAY cheaper than buying one that will sit in your yard most of the year anyway. The beauty of this lake and the mud-less water is near to perfection. Another plus is that we don't have the crazy party people as there are on other lakes. It's rare to see a speeding banana boat with boozed up bikini babes and potbellied middle aged men trying to impress. Always keep your eyes open for bad drivers, but with 745 miles of shoreline on Table Rock Lake, you should be able to avoid with ease. Take lots of water and sunblock to ensure that you aren't totally exhausted at day's end. I recall slathering up one of my toddlers over and over but missed between her eyebrows each time. My little cyclops wasn't too happy with the peeling and pain that evening.
Take a Zipline Adventure
For something outdoorsy yet touristy safe, hit a zip-line. Wolf Mountain is five miles north of Branson or Shepherd of the Hills just a couple of miles west of town are strong options. Wolf Mountain has the standard zips plus a free-fall with one of the zip options. You'll be atop a 100-foot tower with a line attached and the guide says, "Just step off." Sure, just step off. All of your natural instincts say otherwise but you zipped to get there and there is no way down but to jump. If you're scared, you probably won't scream because you'll be too busy sucking in what seems to be your last breath as you step off when suddenly it's over and you're gently on the ground. Shepherd of the Hills has an eight-line zip option out into one of the older forests in the near area. Pretty scenery and exhilarating runs. They also have the longest run at a half-mile in length that starts from Inspiration Tower that stands at 220 feet.
Horseback Riding Off the Beaten Path
There are other outdoor, touristy options and few are more memorable than on a trail traveling horseback. Near Branson hit the ones that are less commercial. These are also less expensive. They probably don't have much of a website and mainly just have a Facebook page. They won't take credit cards and will just stuff the bills in their pocket while the other hand is patting the horse. They don't go through ticket outlets and most don't have uniforms with a logo. These folks have been riding all their lives, know their stuff, and know the other side of Ozark history. Keep in mind that it is an animal, so it's never totally predictable, but to get a chance to get out into these thick forests, traipse through winding trails and creeks as you smell the sweat of your laboring beast, and then see a real hillbilly guide (man or woman) spit tobacco juice… it's worth it. It's also worth it to let your mind wander to days gone by of Ozark bandits and bears, or even just contemplate what it was like to just go get some sugar at the general store in these hills a century ago. To find these trail rides, give a Google and give a call. If they take only cash; then you found the right one – I doubt they have upgraded yet.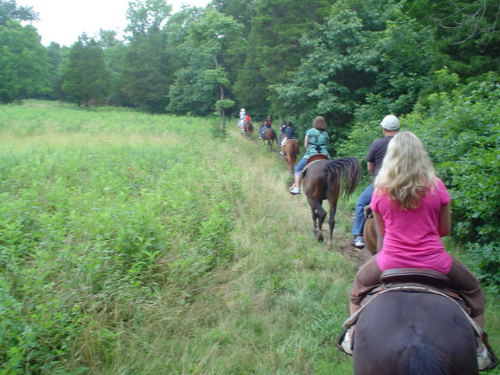 From caves to water to trails to zips, there are plenty of outdoor theatrics to put into your scrapbook of memories around here. So, catch a show and ride a go-cart, then get out there and in there! Fill that empty day with a new chapter of outdoor adventures. That's a book worth reading.
FOLLOW SPINNAKER RESORTS ON FACEBOOK , INSTAGRAM AND YOUTUBE FOR MORE INFORMATION ON ACTIVITIES!