If there is a particular secret a person will keep from his best friend or spouse, it is that favorite fishing spot and this information will hold true to most of that fishing code of conduct. Whether it is to maintain a degree of solitude or to protect personal bounty of the slimy swimmers remains to be seen, but a fisherman will hold tight to the secret.
Fisherman is a generic term for all genders of anglers (a person who fishes with a rod and line). There are just as many females as males casting for the catch as far as I can tell, especially since one of my older sisters taught me how to fish. (Coincidentally, I taught her how to chew tobacco, which neither of us should have been doing but if it's a secret spot, who is going to know, right?)
Branson is often called the tri-lakes area and has wonderful, clear water and plenty of fish within. Table Rock Lake, Lake Taneycomo, and Bull Shoals Lake make up the trio and each has its unique qualities as part of the White River system.
Fishing at Table Rock Lake
Table Rock Lake (seen above), which begins in Arkansas and horseshoes to Missouri, is the recreation lake for boaters, skiers, swimmers, and anglers alike. Because it is the closest warm lake to Branson, Table Rock has an abundance of pleasure boats, great swimming, and even a showboat. This 79-mile long lake has 745 miles of shoreline and multiple inlets to cast your line. Where to cast is the trick. Rule one is don't go where everyone else goes. Visitors tend to flock to the closest spot. Sure you can see the fish around the visitors center dock, but they are looking at you and rolling their fish eyes if you think you're going to catch them. If you really want to catch, drop the money on a fishing guide; otherwise, take your chance with a boat rental and some advice from the deck hands then ease into a cove or near an island with brush.
Trout Fishing at Lake Taneycomo and Roark Creek
Taneycomo Lake is a different story. The water that feeds into it comes from 150 feet deep from Table Rock. That's well below the sun's reach or the thermal cline, which gives Taneycomo the chilly 48-degree temperature and makes it a haven for trout. The trout hatchery at the beginning of Taneycomo dumps 10,000-20,000 brown trout a year into Taneycomo, and anywhere from 40,000 to 80,000 rainbow trout a month. Yes, a month.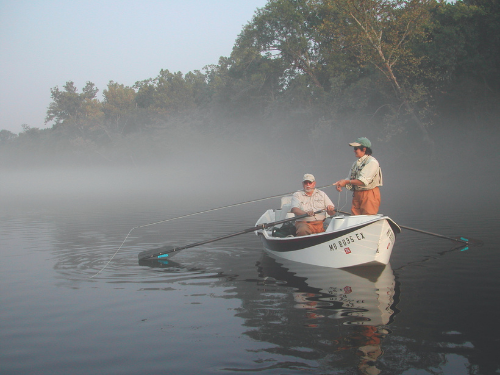 According to Alex McGuire (a Spinnaker front desk clerk and fishing guru that is willing to break the code of secrecy for our guests) a good spot for trout fly-fishing is by the hatchery outlets. Large schools of rainbow and brown trout will feed in pockets and if the current is flowing, they will hit the flies if you're using a straight dead drift with no pull. These fish are fresh to freedom and not as bright to avoid getting nabbed, but they can still spot a rooky pulling the fly. If you're a bait fisherman for trout, Alex says "Keep going downstream until you hit the Branson Landing then go a bit further to where Roark Creek and Taneycomo merge. Use a decent weight and 6 lb. fluorocarbon or less line with a small hook and pink garlic scented bait."
Day Trip: Plenty of Fish at Bull Shoals
Eighty miles along Bull Shoals Lake is next on the White River and eventually takes you into Arkansas. With 700 miles of heavily wooded shoreline and little development thanks to the Corp of Engineers, Bull Shoals has plenty of fish if you can find them: smallmouth, largemouth, white, and spotted bass are plentiful along with white crappie and walleye. Because Bull Shoals is the last of the flood control lakes on the White River, it often holds the high water longer than the others and gives you nice brush to sneak into the strike zone of those territorial fish using jigs, plastic worms, crankbaits and spinnerbaits. With so much shoreline, just pick a place in a low trafficked area and see what happens.
The Ozarks has multiple creeks and waterways winding and cutting through the land, and these mountains were formed by erosion and not by plates in the earth shifting. With water being the birth of these hills there will be schools of fish and the best schooling you can get to find that secret spot is to just go out and give it a try. In other words, find your own spot. Make your own story. That's the secret worth telling.
FOLLOW SPINNAKER RESORTS ON FACEBOOK AND INSTAGRAM FOR MORE INFORMATION ON ACTIVITIES!