Hidden in plain sight are little gems often overlooked in the congestion of advertising and the blur of rubbernecking at all that Branson has to offer. Although known to many, not many have the time to experience a different angle on their quick vacation. If you have a few hours to fill and want to ride the other side of Branson instead of that go-cart, roller coaster, or eating with your fingers among horses, we have a few options for you.
Table Rock Lake
There are those that still want to fulfill their need for speed with a thrill, so jumping off a cliff into Table Rock Lake (see above) might be just the ticket. You will not need a ticket, but a boat rental to get you there is a much better option than a hike through the woods to reach those cliffs unless you have an affinity for ticks and briar scratches. This rock formation juts into the crystal-clear water like Godzilla stretching his neck out from the shore and dipping his snout for a cool slurp. Trust me, your snout will get a slurp when you launch off that lizard's head into the deep waters. The height will obviously vary with the lake level and if you have good judgement, you should just watch others getting their skin smacked and that sudden niddy-pot or something worse at the other end. Safe? Yeah, right…. Fun? Sure, if that's your thing!
Reeds Spring Pizza
That touch of danger is alluring to many and perhaps that's what beckoned Bonnie and Clyde to the Ozarks where they blasted through the now rundown town of Reeds Spring near Branson in 1934. Reeds Spring hosts a Bonnie and Clyde Day each autumn complete with reenactments, but that isn't the gem of these parts; Reeds Spring Pizza is and it's dangerous. Your doctor with surely be upset at the pounds you've packed on from this hole-in-wall in the holler. This unique pizza joint has even been featured in the New York Times and the menu selection and flavor should be illegal. Scribbled on the walls are hundreds of signatures of patrons and yours can be too if you can pull yourself from the culinary coma of unique pizza styles. Not fancy. Unique. A definite palate pleaser.
Bill Gail's Cafe
If overindulgence of food is a vacation tradition, Bill Gail's Café will do it. Not far from Silver Dollar City on curvy Highway 265 in the hardwood Ozark-forest, Billy Gail's is famous for its outlandish breakfast portions. A 14-inch pancake. Yes, a 14-inch pancake that drapes over the plate. If you aren't full after this café is finished with you, there is a monstrous tape worm giving you thanks. From catfish to sandwiches to biscuits and gravy along with plenty of other southern goodies to make your arteries scream for mercy, Billy Gail's is a favorite to locals and tourists that wandered in and crawled away.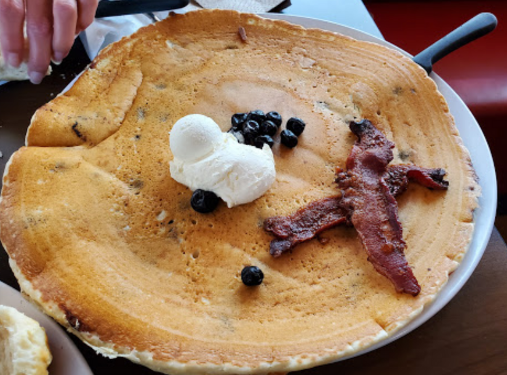 Boardgame Café
In this day and age of high-tech and family time consisting of staring at phones with the occasional grunt, there is an old-fashioned option in downtown Branson: the Boardgame Café. Other than deli sandwiches and some nice lattes, you won't find much food, but you will find a smorgasbord of over a thousand games. For just $5 a person and $20 max for a family, it's a true treat for the gang to actually interact. There are games from your childhood to modern options that can keep the afternoon or evening hopping for a rewarding memory that isn't connected to a charger cord. You might even see more than just the top of your children's heads and discover that your teen boy's voice has changed.
Cryptic Quest
If there is a fear that being too tech-deprived could frighten the family; then give the brand-new Cryptic Quest a shot. It's a new family event in town that uses high-tech and family interaction to get the clan together and moving. If you enjoy geocaching, solving mysteries, escape rooms, etc. this is a unique and family friendly outdoor event that involves your GPS enabled cellphone to guide you to clues to unlock an evolving story and journey. It is nominal in cost and can be done solo or with the entire family. Spinnaker owners have a unique code for a discount to this unique family-friendly experience. You won't find this posted all over town and will have to do a little searching on the net. If you're staying at one of our properties in Branson, there is a QR code in the lobby to get you going.
There are plenty of other gems in this tourist town that range from scenery to little-known shows, and everyone has an opinion about each, but the best gems in these hills are sitting right next to you in your car as your traveling. The days are long, but the years are short; so perhaps these little gems will help dust off that treasure that is family.
FOLLOW SPINNAKER RESORTS ON FACEBOOK, INSTAGRAM , YOUTUBE  AND TIKTOK FOR MORE INFORMATION ON ACTIVITIES!