Branson might have the flashy lights and sparkling attractions, but it will be Mother Nature putting on the biggest show every autumn. To only take a glance at the Ozarks through a car window instead of delving into the woods is like only eating the piecrust instead of digging deep to experience the entire flavor. A hike into the woods to see what mom has mustered is just the ticket to place your eye-pallet in awe. Here are several opportunities and these spots are FREE!
Know Before You Go Hiking
Before you trek into the multiple hiking options in or near Branson, here are a couple of things to make the experience as tasty as you had hoped:
Take any stick at least two-feet long. Whether strolling in a saunter or speed walking, in the fall there are plenty of spider webs stretched across pathways and you won't notice them until you find yourself entwined. Let those other folks go ahead of you and have your camera ready for the wild-web-waltz. You might look silly chopping the air while walking, but you won't look as silly as the folks in front of you thrashing and screeching when they get a face-full of web and do a panicked dance fit for YouTube.
The vibrant colors of low lying leaves might be tempting to snatch up as a beautiful souvenir but there is a good chance that it's poison ivy. These are among the first to burst with brilliant colors but that beauty has a bite and will be happy to give you a wonderful itchy rash. (The leaves might not be as potent in the fall, but don't believe the tale that you can't catch it – you can and will!
Popular Hiking Options In or Near Branson, MO
Within the city limits of Branson is one of the most popular hiking options with much to offer. Lake Forest Wilderness behind the Dick Clark Theater is 140 acres of over 5 miles of trails with one taking you down 315 stone steps to Lake Taneycomo. Other trails are nicely rugged and lead to a cave-cove or you can perch on a high overhang. There can be some healthy drops, so staying away from the edge after pounding the pathways is probably a good idea. This is a well-traveled area and there are plenty of semi-flat walking options if you just want to stroll. As popular as it is, if you think that you're lost you won't be alone long and can take some advice from others or just follow.
Speaking of lost… my four kids had themselves an outing to Busiek State Forest and Wildlife Area about 10 miles north of Branson that offers 18 miles of hiking trails amongst 2,700 acres of pure Ozarks near the Mark Twain National Forest. Long story short, dad left work armed with a cell phone and the Busiek trails online map courtesy of the Missouri Department of Conservation. It took a while to locate the wandering varmints but they got a little extra scenery, a good story to tell, and now know their way around. Check it out online to get the full impact of this wonderful outdoor option.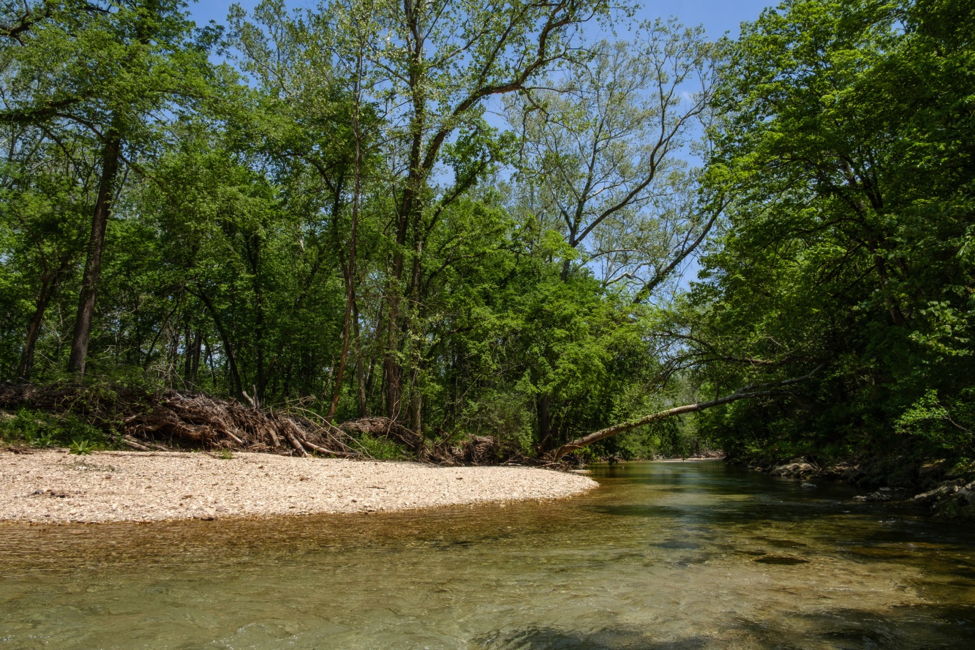 Another just-out-of-the-city option west of Branson about a mile on the famous Highway 76, is the Ruth and Paul Henning Conservation Area. Paul Henning was the creator of, among others, the Beverly Hillbillies and Green Acres and he and Ruth owned this 1,500-acre stretch of land. It was their wish for it to be preserved for all to enjoy. It is the old true Ozarks in many areas and it is peppered with the past with true "bald knob" glades plus thick oak and hickory forest vegetation as it used to be. Many of the trails are paved for a casual walk or hard jogging and there is even an open-air observation tower. It is gated, so don't stay after hours or the ranger will have your car locked in!
Just a few miles away from the Branson city limits, there's a sweet view of Table Rock Lake on the trail at Dewey Short Visitors Center by the dam. It's well kept, well travelled, and it will take you to the Showboat Branson Belle. Time it right and catch a picturesque sunset on the lake from this leisurely trail; but across the road at the Table Rock Dam observation area, there is a trail that's not so leisurely. In the parking area at the top on the downstream side of the dam, you will see a staircase that goes to nowhere. From the top step you'll see a trail that will wind through the woods and is rugged in spots as the Ozarks should be. Toward the beginning of the trail, you can step out on a rock and be looking some 250 feet down to the White River/Lake Taneycomo. Plenty of locals use this trail and it is usually well beaten but there are nice twists and turns and ups and downs plus nice scenery.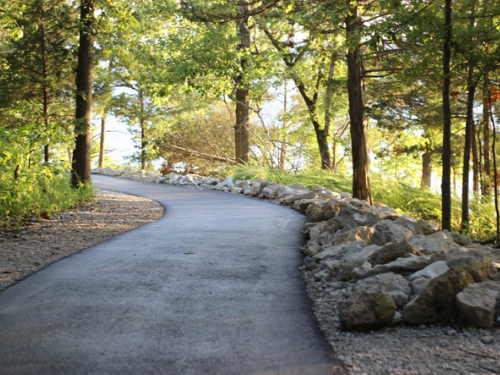 Favorite Hiking Places Outside of Branson, MO
For the ultimate in Ozark scenery on a hike, travel south to Arkansas for numerous opportunities along the Buffalo National River with Lost Valley Trails and the Ozark Grand Canyon, but the scenic favorite is Whitaker Point otherwise known as Hawksbill Crag. If the road were straight you could get from Branson to there in under an hour but the twists and turns add a new twist to travel time. Although there might be a few miles of gravel road to get to the trailhead, this two-mile hike is stunning to say the least. From walking deep into a hardwood forest, up and down dry beds, a wow of a site along the ridge edge, to the view of views at the tip of Hawksbill. Once there, just stand on this colossal cliff that juts out over a blanket of hardwoods that cover the deep canyon and coats the walls of this bisected plateau.
These ancient, Ozark hills can cook up quite a visual dessert and a chance to breathe in the atmosphere that made it famous long before neon lights peppered the landscape. So, take a hike and dig in – it might just be one of your favorite flavors.
FOLLOW SPINNAKER RESORTS ON FACEBOOK AND INSTAGRAM FOR MORE INFORMATION ON ACTIVITIES